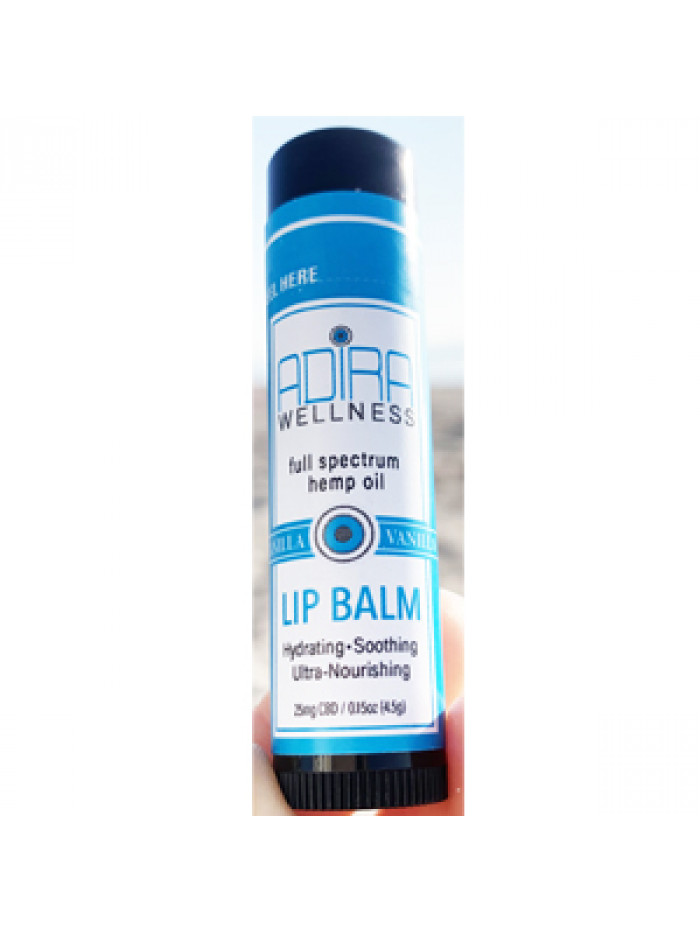 detail product
Lip Balm Full Spectrum CBD
Product Code:

LIP BALM singles

2

Availability:

In Stock




ADIRA Wellness Full-Spectrum CBD LIP BALM IS SUPER HYDRATING - SMELLS GOOD AND FEELS AMAZING
Our products contain beneficial cannabinoids such as CBD, CBG, CBC, and CBN plus flavonoids and terpenes and other beneficial plant molecules. Formulated with zero chemicals in fertilizers and pest control. The hemp plants are non-GMO and grown in the pristine environment of the Colorado Rocky Mountains.
PEOPLE ARE OBSESSED WITH OUR NEWEST PRODUCT
This will be one of our customers-favorite CBD LIP BALM French Vanilla 25 mg of Full Spectrum Hemp Oil per lip balm.
Contains .3% or less THC — federally legal nationwide. (State laws may vary)


Recommended Use:
apply liberally as needed...and our ladies can apply before or after lipstick!!!
Ingredients:
Ricinus Communis (Castor) Seed Oil, Cetyl Stearyl Alcohol, Olea Europaea (Olive) Fruit Oil, Beeswax
Hydrogenated Castor Oil, Glycine Soja (Soybean) Lipids, Lauryl Laurate, Copernicia Cerifera (Carnauba) Wax
Euphorbia Cerifera (Candelilla) Wax, Full Spectrum Hemp Oil, Essential Oils and Stevia
'THE ADIRA WELLNESS WAY':
CREATING PRODUCTS OF LUXURY, PUREST & HIGHEST QUALITY CBD STANDARDS


Additional Information:
Our CBD products are produced with the highest safety and consistency standards — and are third-party lab tested for quality assurance.


Allergen Statement:
Products may contain coconut oil and consumable essential oil. Please read the ingredients list on product label and consult a physician before using.
These statements have not been evaluated by the Food and Drug Administration. This product is not intended to diagnose, treat, cure or prevent any disease.
Store cool area, out of light, and away from children