CBD Oil for fitness does it work?
09/08/2017 | Adira Wellness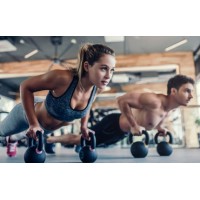 CBD is quickly becoming a vital part of many workout routines. In capsule or oil form, CBD is an important part of any holistic health and wellness routine. Whether you're a professional athlete, amateur jogger or busy mom, this beneficial supplement made from hemp can help. Whatever style of fitness regimen you prefer, muscle development and muscle recovery play key roles in overall health and wellbeing.
Since the World Anti-Doping Agency lifted its ban on CBD, many fitness professionals and athletes use CBD as the staple for their high-performance fitness regimens. CBD can do a lot of 'good' for the human body. That being said, it's important to use the highest quality CBD from natural hemp oil, from a CBD supplier you can trust. Bargain priced "CBD" products frequently contain very little CBD content by volume. If you're going to buy CBD oil, be sure it is 100% premium and pure from hemp with less than 0.3% THC content – which will ensure it is legal in all 50 states.